JSA of LIS 2023 Annual Meeting Summary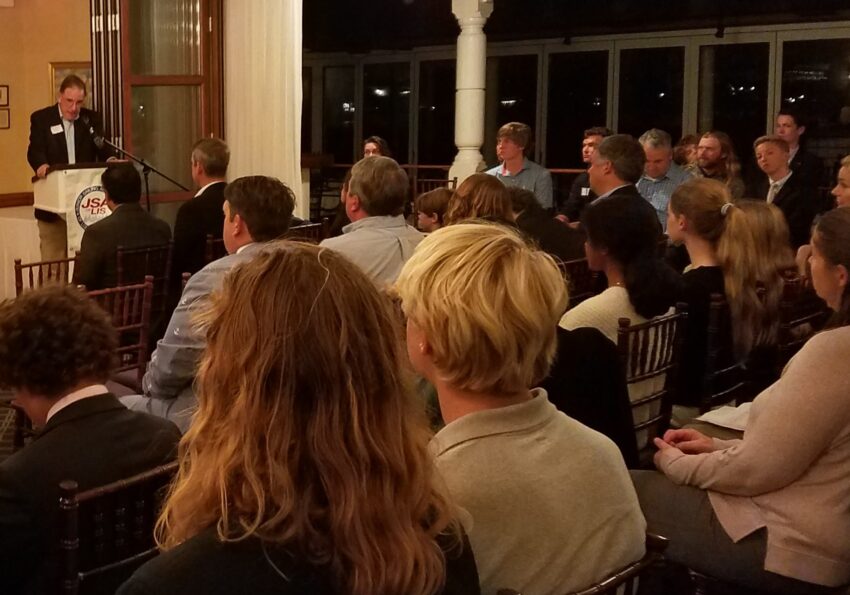 A large audience attended in-person at Larchmont Yacht Club
The JSA of LIS Annual General Membership Meeting was held in-person at Larchmont Yacht Club and via simultaneous Zoom video during the evening of October 16, 2023.
The meeting had 96 people registered (64 attended in-person at Larchmont YC and 32 attended via Zoom).
The resources from the meeting may be viewed at this link. The available meeting resources include video and audio recordings that include commentary by JSA chairperson Tim Clark, the election of JSA officers and board members, the awards presented, and an open discussion among the attendees.
This was the annual meeting for the representatives of JSA member junior sailing programs, who gathered to discuss summer 2023 and plans for 2024.
Following the welcome by JSA chair Tim Clark, the slate of JSA officers and new board members was elected. Awards were then presented for special recognition, season series low point, and junior big boat regattas. Also, recognition of departing board members: Dave Waldo who served 14 years, Warren Costikyan who served 6 years, and Christina Meyer who served 3 years.
Chairperson Clark provided his comments about summer 2023 and expectations for 2024, then he moderated an open discussion among the meeting participants.
2024 Scheduling:

All JSA member programs, please update this list with your expected 2024 summer program start and end dates to help regattas be scheduled when the greatest number of junior programs are active.
Regatta hosts, please list the events you wish to schedule in 2024 by using this request sheet to help JSA avoid date conflicts, and fill out a form if you are interested in hosting a boat class championship.