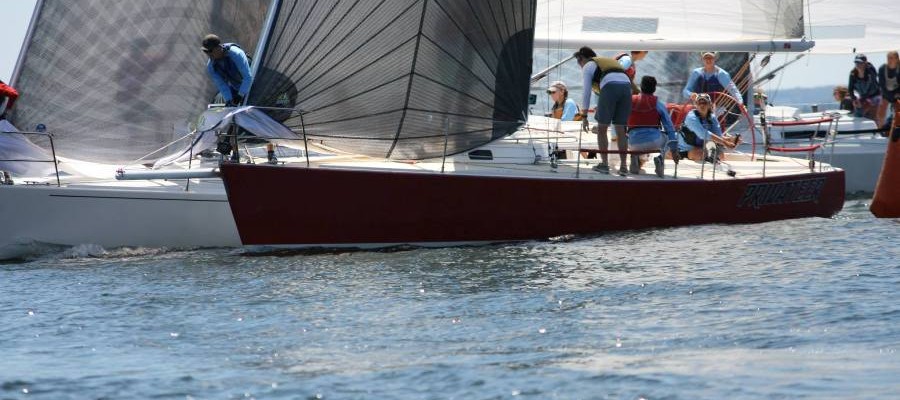 The Junior Big Boat Sailing (JBBS) Program introduces Big Boat sailing and racing to older JSA sailors.
JBBS Navigation/Seamanship course and Advanced in-person test:
The  navigation/seamanship syllabus is available to prep for the Basic online test and the Advanced in-person navigation test on the evening of July 31 2023 at three testing venues: Stamford, Beach Point and Manhasset Bay Yacht Clubs. The tests will be based on this syllabus, which may be used for classroom lessons or online study. Please have your designated navigation teacher check the syllabus details in this link . View a summary of typical topics included in the tests, read the test notice, and register teams on Clubspot. 
Marlinespike Seamanship Contest:
Each JSA club is encouraged to incorporate the marlinespike contest into their curriculum. They will teach, test, and give their own awards throughout the summer. JSA wants each club to have a "JSA Level 1 (JSA 9 years), 2 (JSA 10 & 11 years), 3 (JSA 12 & 13 years) Marlinespike Seamanship Award". The purpose of having this in place is to help build interest in the curriculum starting with the young Opti sailors. Ultimately the JSA 14 year + sailors will compete for the Marlinespike Seamanship award.
Back-to-Basics Junior Big Boat Cruise:
Emphasis is on seamanship, boat handling and all the fun things sailors get to do on a big boat when not racing.  The syllabus for this cruising activity was presented to junior sailing program leaders at the 2013 JSA Midwinter Meeting by the American Yacht Club JBBS program. Two handouts are available to help run a cruise at your club: a) slide presentation with photos showing the fun aspects of the cruise; and b) detailed syllabus handout describing how American YC has successfully run its junior big boat cruise.
JBBS Programs and Insurance:
Each club should check whether the club's insurance policy covers the use of a member's boat for the Junior Big Boat Program and consider whether specific language is required to address the issue of who pays the deductible in the event of an incident. The U.S. Coast Guard has issued a "letter of guidance" on the issue of "Passenger for Hire" in the context of Junior Big Boat Programs run under the US Sailing guidelines, below, indicating that Junior Big Boat Programs do not meet the standard for "Passenger for Hire" and are therefore exempt.
JBBS Racing Rules for JSA Events:
The Rules for JSA Events contains the requirements for a Jr Big Boat Program to participate in sanctioned events, particularly the Dorade Trophy Regatta, the Beach Point Overnight Race, and other events run by clubs like Black Rock YC that have similar requirements. Details are available in the Rules for JSA Events, see Appendix F.
JBBS Guidelines from US Sailing:
US Sailing has established a national, standardized Junior Big Boat Sailing Program. The program allows new sailors to learn the ropes on a big boat platform – or experienced junior sailors can apply their small boat sailing skills to a new challenge. The JBBS program highlights fun, social and non-competitive teamwork. With JBBS skills, teens can be valuable crew on cruising boats and club racers. The JBBS program is described here.  A guidebook with eight lessons may be purchased from US Sailing.
JBBS Safety at Sea Guidelines:
US Sailing and Storm Trysail Foundation have been working together to publish guidelines that will assist volunteers to prepare for or host a Junior Safety-at-Sea Seminar. The JSA requires participation in these safety seminars. So view this link to brush up on what your JBBS sailors need to know about safety.
Seamanship & Safety Skills Checklist:
The Chicago YC Race to Mackinac has an extensive checklist of safety skills that your club may wish to use to review the competency of your skipper, navigator, watch captains, and other crew members to participate in an overnight race. 
Eligibility: PHRF Ratings and Sport Boats:
Yachts that race in JSA big boat events must have an up to date PHRF certificate as described on the YRA of LIS website. Boats that are classified as a "sports boat" may be allowed to race if permitted by the host of a big boat event. To determine if a boat is considered a "sports boat" use this compliance form. 
The 2022 JSA Midwinter Meeting featured the JBBS topic during a panel discussion with Gregg Clark of Riverside YC; Iris Vogel of Huguenot YC and Doug Reynolds of Larchmont YC who discussed how make use of a borrowed big boat with coaching by volunteer-club-members or paid staff to encourage experienced junior sailors to apply their small boat sailing skills to a new challenge that is fun, social, and full of teamwork. View the video of the discussion (starts at 4:00 mins), and see other information available below:
US Sailing's Junior Big Boat Sailing (JBBS) Program Guide was distributed to each JSA member program that attended the Midwinter Meeting in-person. Additional copies were mailed to JSA programs that could not attend in-person. The JBBS program is

described here

.

Jr. Big Boat Sailing at Stamford YC in 2021

(WindCheck Magazine March 2022 article by Rick Bannerot)

US Sailing's

Big Boats – Big Ideas presentation

from the 2019 National Sailing Programs Symposium contains a variety of ways to use keelboats with teenagers.