U.S. Junior Sailing Championships 2014 Preview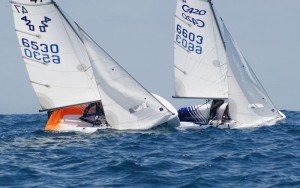 A talented collection of the top young sailors in the country have arrived in Northern Michigan and are eager to test themselves this week in single-, double-, and triplehanded competition on the waters of West Grand Traverse Bay. The Chubb U.S. Junior Championships is US Sailing's most historic junior regatta. Racing at this US Sailing National Championship, hosted by Grand Traverse Yacht Club and Traverse Bay Community Sailing, gets underway Wednesday, August 6 and concludes Friday, August 8.
First sailed in 1921, the championship is recognized as one of the preeminent youth sailing events in the United States. Almost 900 sailors compete regionally to win a place at this championship in one of three fleets. Competing sailors range in age between 13 and 18. Each Area is eligible to send at least one sailor or team to compete in each of the fleets.
US Sailing Area B sailors participating in the event are:
– Triplehanded: Dwight Greenhouse, Collin Alexander and William Gallagher
– Doublehanded: Matthew Kaplan & Sean Walsh and Timothy Greenhouse & Oliver Parsons
– Singlehanded: Jared Gaynes and Sam Morrell
and we wish them the best of luck over the next three days.
OrangebluematchRacing will take place in the Interlake, Club 420, and Byte CII. The equally matched Club 420 and Byte CII are supplied by Zim Sailing, one of the sponsors of the championship.
There are 2015 U.S. Youth Championship implications on the line this week. The top two single- and doublehanded teams not already qualified and finishing in the top 30% of competitors will receive early acceptance to the 2015 U.S. Youth Championships in a doublehanded boat of their choice. Teams must apply for the 2015 U.S. Youth Championship to be eligible.
There is much more to this championship than racing. A one-day racing clinic led by US Sailing's Junior National Coach Richard Feeny will be held prior to the start of the championship on Tuesday, August 5. Feeny will be joined by an impressive roster of coaches from around the country, including Cappy Capper (University of Minnesota Head Coach), Matt Lindblad (MIT Co-Head Coach), Mike Kalin (MIT Co-Head Coach), and John Pearce (George Washington University Head Coach). Instruction will cover charter boat assignment, rigging and handling of the boats, starts, and practice races.
A College Sailing Night, sponsored by Gill, is scheduled for Thursday, August 7. This is a special opportunity for these young sailors to learn the ins-and-outs of college sailing and what it takes to race at the next level.
For more about the Junior Championships, check out the US Sailing event website.