Big Winds and Fierce Competition Meet Sailors at JSA Laser C420 Champs
Usually, it's hard to find a good breezy day on the Long Island Sound, but at the 2014 JSA Laser/C420 Championship Regatta hosted by Shelter Island Yacht Club, the tides took a change with big winds, lots of waves, and fierce competition.
"It was really choppy out there," Hector McKemy of AYC told me. "We had to get used to [the waves] fast when we got out there."
Conditions were fantastic, allowing the race committee to take full advantage of the two-day regatta, getting in 11 races for both Laser Standard and Laser Radial, and eight races for the C420 class. "We started late and ended late," Connor Chapin, a sailor from Larchmont Shore Club told me about the first day of racing. "The race committee really knew what they were doing."
Junior Sailors were grateful for the housing that Shelter Island Yacht Club members provided after a long drive out to Shelter Island by those who live in the western Long Island Sound area. At the end of the first day, sailors were drained from the grueling day of sailing, and most crashed into their beds before the curfew of 9:00pm.
The second day of races brought more wind and waves, with the race committee getting six more races in for the Laser classes.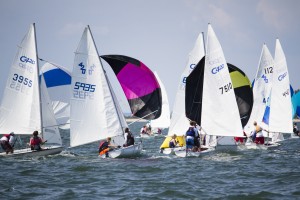 "There was some great competition out there," LSC sailor Alex Kirchgaesser said to me. "You're racing against the top sailors in the JSA, so you know you're going to have some good races."
After heading back in on the second day, and after protests, food and ice cream sandwiches, the results were announced to a huge crowd on the main green of SIYC.
In the C420 class, Will Gallagher and Jack Knowles from Larchmont YC took first place. In the Laser Radial class, Collin Alexander of American YC snagged the gold, and in Laser Standard, Will McKeige of American Yacht Club took home first place for the second year in a row.
For full race results, please see JSA's regatta documents page.