Former JSA Sailor Marek Zaleski Takes the Win at 2017 US Laser National Championships
Last week we had the chance to catch up with Marek Zaleski, member of Noroton Yacht Club and Olympic hopeful in the Laser Class. Fresh off the Laser US National Championship in California, Marek provided us with some insight on the regatta that he won with a near perfect scoreline, as well as on his path as a former JSA of LIS sailor.
The Laser National Champs was held in Lake Tahoe, Calif., a venue Marek venue described as "a little unusual for a National event", as it is a large freshwater lake located in the Sierra Nevada Mountains and lying at 6200 ft. The wind conditions were pretty light, averaging 8-10 knots over the four days raced with sailors often having to stay on the water until 7pm to benefit from the late breeze. Marek won the event with five bullets out of the seven races. He attributes his success to his hard work and dedication over the past few years in the Laser and other sailing classes.
It was interesting to discuss with Marek how he reached the level he is at today. His father being the co-founder of Z Sails, Zaleski was introduced to the sailing world early on. While he did take part in JSA programs at Noroton, Cedar Point, and Stamford yacht clubs, he also campaigned keelboats, namely Swan 42s, Swan 45s, and J24s. He also attributes part of his success in Lasers to his training while at Stamford Yacht Club with coach Andrew Scrivan, who introduced him to racing in the Laser class. Marek also explained how his four years at Harvard allowed him to evolve as a sailor. While being a 420 skipper on the sailing team practicing and racing five days a week, he also tried to spend at least one or two days a week on his Laser, training with his Harvard teammate Juan Carlos Perdomo, the 2013 ISAF Youth World Champion in the Boy's Laser Radial. As Marek puts it out, he "really didn't have any weekends off!"
Marek graduated from Harvard a year ago, and has been sailing full time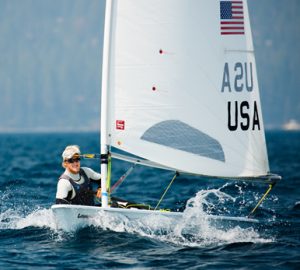 since then. He spent close to nine months racing the European circuit and then trained in Mexico for two months at the International Sailing Academy earlier this year. It seems as if all this hard work paid off at the the Nationals in Lake Tahoe.

And what's coming next is equally as impressive. Along with 2016 Olympian Charlie Buckingham and Yale skipper Malcolm Lamphere, Zaleski is flying to Denmark next week for the Aarhus test event in order to qualify the USA for the 2020 Tokyo Olympics. He will then stay in Europe for the Laser World and European Championships, before flying to Mexico for what he describes as "hardcore training" both on the water and in the gym.