JSA of LIS Racing Clinic at Stamford Y.C. June 25 -26
The 2015 JSA of LIS Racing Clinic for C420s, Lasers and Radials will be held at Stamford Yacht Club for two days on June 25 to 26.
Sailors will learn from experts, enhance racing skills and gain advice at the start of the summer sailing season. JSA's clinic features college sailing coaches and champions, who have competed in the Olympics and national intercollegiate championships.
The clinic will have sections for sailors who are:
– Developing their skills after moving to Lasers or C420s from other boat types
– Planning to compete at the Law Trophy regatta, which follows this clinic.
– Striving to qualify for Laser or C420 champs in August
The clinic schedule is available at this link http://bit.ly/RaceClinicJSA2016
Parents of juniors may register directly with JSA using this link http://bit.ly/JSAClinic2016
The Oyster Bay Sailing Foundation and the JSA of LIS have been teaming up for over 20 years to sponsor this clinic to prepare talented sailors for the summer season and beyond. Programming will consist of conditioning, on-the-water drills, and interactive discussions about boat speed, tactics, and rules. The JSA has recruited a great group of coaches who will bring their enthusiasm, knowledge, and racing experience to lead this year's clinic in Lasers (standard and radial rigs) and Club 420s. Participation is open on a first come, first serve basis to those want to enhance their racing skills. The event is bring-your-own-boat. Housing is not provided, but if requested we will try to arrange with other clinic participants. Sailors must be 14 years old by end of this year. Clinic fee is $120 per sailor.
Questions about the clinic may be directed to the JSA Office: info@jsalis.org or 914-834-4202.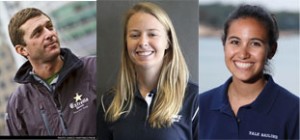 Meet the Coaches:
Leading the clinic will be Stan Schreyer, head coach of the Boston University sailing team. As a BU senior Stan helped win the 1999 Inter-Collegiate Sailing Association national championship. Stan was also named All-American Skipper and College Sailing Sportsman of the Year. He coaches his sailors on boat handling, strength training, racing tactics, and understanding wind patterns. Stan has coached the Danish Olympic Sailing Team for the Laser Radials, sailed in the Extreme 40 Grand Prix circuit from 2005-2008, was a member of the US Sailing Team from 2002-2004 and the U.S. Olympic Team in 2004 in the Tornado.
Also at the clinic will be Morgan Wilson, Assistant Coach at SUNY Maritime College, began her sailing career in the Optimist class, and was a three-year member of the Optimist National Team and International teams. As a junior sailor, she competed in national championships in the Laser Radial and 420. In college, Morgan sailed for Old Dominion University. Highlights of her college sailing career include a 5th place finish at ICSA Women's Singlehanded Nationals and 3rd place at ICSA Women's Dinghy Nationals. Morgan qualified for the ICSA Women's Singlehanded Nationals in Laser Radials all 4 years of her college sailing career. After college, Morgan coached at yacht clubs such as Annapolis Yacht Club and Lauderdale Yacht Club.
Assisting at the clinic will be Marlena Fauer, who grew up sailing the Optimist dinghy on Long Island Sound in JSA of LIS events. She became a member of the US Sailing Development Team in 2010 and went on to represent the United States at the 2010 ISAF Youth Worlds in the I-420 dinghy. In her freshman year at Yale, Marlena was named All-New England Women's Rookie of the Year. Her sophomore year, she earned the distinction of All-American skipper. During her junior year she was elected as a captain of the Yale Sailing Team. She won B Division at ICSA Women's Nationals as a skipper her junior and senior year and was a two time ICSA Team Race National Champion and 2014 ICSA Coed National Champion as a crew. These results helped Yale win the Fowle Trophy in 2013 and 2014, which is awarded to the best overall college sailing team.
Parents of juniors may register directly with JSA using this link http://bit.ly/JSAClinic2016