JSA LIS Preseason Clinic 2022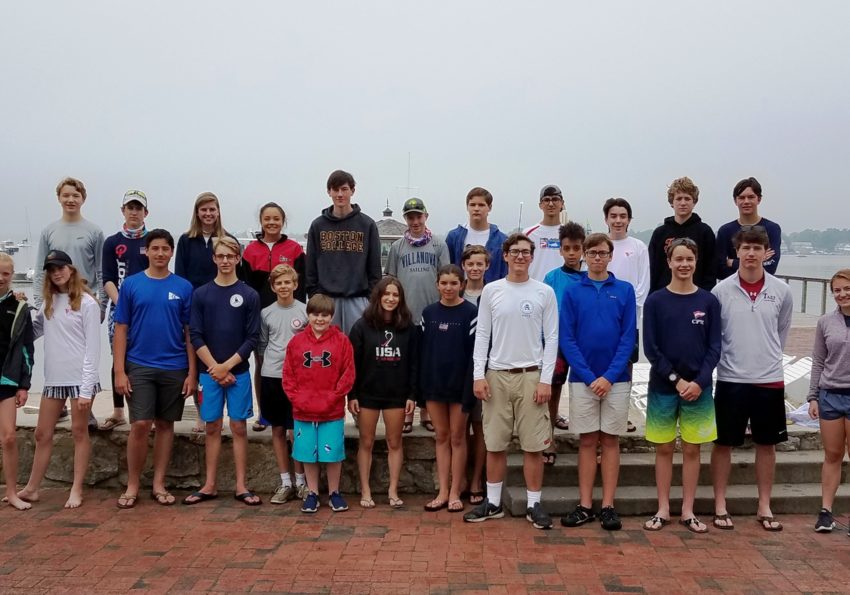 Sailors enhanced their skills during a prior clinic
The JSA of LIS Preseason Clinic for Club 420s, Fevas and ILCAs (Lasers, all rigs) will be held at Stamford Yacht Club for two days on Saturday June 25 and Sunday June 26, 2022.
The clinic will have sections for sailors who are:
– Developing their skills after moving to Club 420s, Fevas and ILCAs (Lasers) from other boat types
– Preparing to compete at regattas early this summer, like the Law Trophy regatta on June 27-28
– Striving to succeed at JSA's Club 420, Feva and ILCA (Laser) champs in August
The Oyster Bay Sailing Foundation and the JSA of LIS have been teaming up for over twenty years to sponsor this clinic to prepare sailors for the summer season and beyond. Programming will consist of conditioning, on-the-water drills, and interactive discussions about boat speed, tactics, and rules. The JSA has recruited a great group of coaches who will bring their enthusiasm, knowledge, and racing experience to lead this year's clinic.
Registration: Parents of boat skippers may register directly with JSA using the Clubspot system at http://bit.ly/JSA22Clinic. Questions about the clinic may be directed to info@jsalis.org or phone/text (570)441-9737. The event is bring-your-own-boat. Clubs may assist by arranging use of a club boat at the clinic for sailors who do not own a boat. Housing is not provided. Clinic fee per boat is $150 for singlehanded and $300 for doublehanded.
Meet the Coaches – four experienced coaches will be running the clinic:

– Leading the clinic will be Henry Millette, Sailing Director for Indian Harbor Yacht Club, School Year Sailing Director for Venice Youth Boating, and Head Coach for the Greenwich Country Day School Sailing Team. Henry led the Greenwich HS Varsity Sailing Team to a CT State Girls Fleet Racing Title in 2021 as well as a top finish amongst public schools at the 2019 New England Schools Sailing Association Team Racing Championship. He also coached the top blue fleet sailor for the JSA Optimist Season Trophy in 2019 and the White Fleet Champion at the 2017 JSA Opti Championship. Henry has served as the Feva Coach at this clinic during the 2019 and 2021 editions.
–Brendan Feeney, assistant coach at the United States Merchant Marine Academy, Kings Point, since August 2020. Previously, Brendan was assistant coach at Eckerd College. Here he led them to their Match Race Conference Championship, paired with a top 10 finish at the 2019 ICSA Match Race Nationals. He led USF to 3 National Final Coed Dinghy appearances, including 2 Top-12 finishes. In 2019, he was selected to the United States Etchells youth team. Brendan also did a short stint in the 470 Olympics Class placing 2nd at the 2016 470 US Nationals, as well as finishing 3rd in the US Team at the 2017 ISAF World Sailing Miami (US Sailing Team Selection Trials).
– Emma Wells, coach at Indian Harbor Yacht Club. Growing up, Emma competed as part of the United Kingdom RS Feva National Junior Squad from 2015-2018 and was titled RS Feva Ladies World Champion 2018. She then proceeded to compete for the 29er British Youth Sailing Team 2018-2021 and was the first female 29er sailor in the UK rolling ranking and female champion of the Grand Prix series. Emma has been offered a position in the 49er FX Olympic transitional squad. For the last couple years, she has been head coach for the Hayling Island Sailing Club Optimist and RS Tera Winter Training Squad, and has coached for the Southern International Optimist Class Association.
– Bailey Carter, 2019 graduate of Hobart & William Smith Colleges. Growing up, she sailed the ILCA 5 (Laser 4.7) in the Tampa Bay, Florida, area and finished 3rd at the North Americans in 2013. While at HWS, Bailey earned All-MAISA honors all four years and was named MAISA Women's Sailor of the Year in her junior and senior years. Bailey has coached a wide variety of skill levels and ages from young children to adults in a variety of different boats including Optimists, Lasers and 420s. She has also served as the Head instructor and the Assistant Director at the Chautauqua Institution Sailing Center, NY, and was a two time all American.