US Sailing Level 1 In-Person Sessions for 2021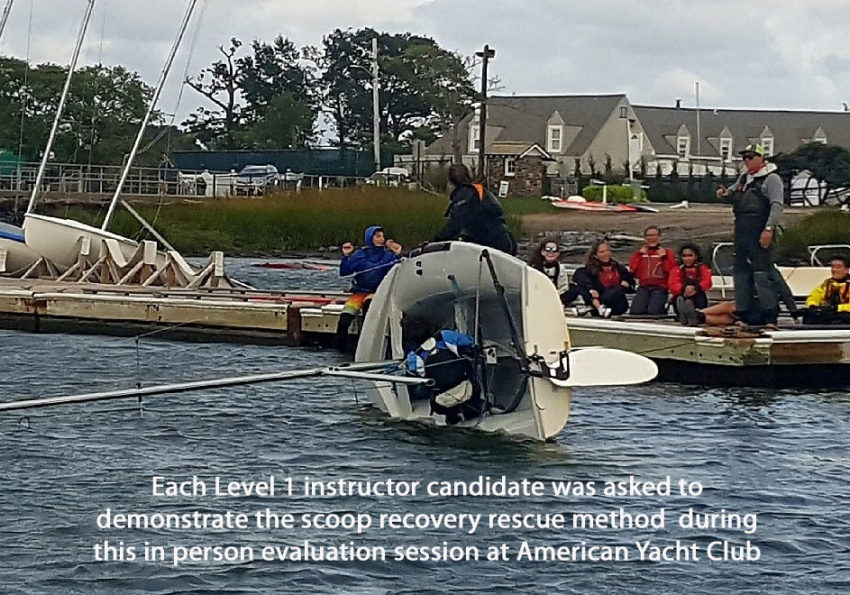 The JSA of LIS is reaching out to Junior Sailing Program leaders to ask for mutual assistance to ensure that your program, and other sailing programs offered by JSA Member Programs, are staffed by well trained and certified instructors, which will help all our programs operate safely during 2021.
The Issue. We need help hosting two-day US Sailing Level 1 in-person evaluation sessions for 2021. Owing in part to the COVID-19 related challenges, there are a number of instructors who were unable to complete their certifications in 2020. We also have an additional number of Instructor Candidates who have started the Level 1 course online in 2021 and still need to finish the course in person.
The in-person evaluation portion of the Level 1 course is critical to ensure that your staff is offering the highest quality program to your sailors and is being as safe as possible. It is crucial for your instructors to complete their full certification before starting to teach this summer (use this survey link to report the count of instructors at your program who need to finish the course).
How You Can Help. US Sailing and the JSA are trying to identify organizations / facilities in the Western Long Island Sound region that are willing to host ONE or MORE two-day Level 1 in-person evaluation sessions.
The in-person evaluation session requires about 18-20 hours over two consecutive days to complete (note that pre-COVID Level 1 courses required four days at a hosting facility). Instructor Candidates are evaluated on their teaching ability, sailing skills, powerboat handling skills, on-water class management and risk management, among other topics. The evaluations of on-water management and powerboat handling are imperative for a program to have a successful season and keep everyone safe on and off the water.
We are asking for help hosting more course sessions "than in normal years" to get through this bottleneck.
Some Benefits to hosting!
Give your own sailors and staff, as well as local Instructor Candidates, the ability to learn and get certified.
Have a strong group of sailors help identify potential pitfalls or things that need to be fixed as they use your summer facility and perform a site inspection as part of the in-person session.
Create a catalyst to getting your program set up a little earlier than usual. This may provide more training time during your summer staff training/set up week.
Give potential future staff insights to your club and your facilities.
Help connect with sailors in your area and expand your own sailing community.
Support the JSA of LIS and US Sailing to raise the level of safety and best practices by getting more staff certified and trained in your area.
Free seat for one of your staff members at an instructor course next year if your site hosts two or more courses this year.
Action. We ask that you discuss this issue with your own organization's management team and consider the possibility of hosting one or more two-day Level 1 in-person evaluation sessions. Details about what a host site needs to provide for support of a two-day session may be viewed on this JSA website page with information about onsite setup and the COVID-related guidelines established by US Sailing
If you can host or have any questions, please reach out to Alex Helfand (ahelfand534@gmail.com) US Sailing Regional Training Coordinator and JSA Co-Chair. Alex will work with your organization and other local clubs on identifying dates that best suit your facility's availability and the nearby community.
The target period for hosting a Level 1 in-person session is late April to mid-June. Dates outside of this range may be considered, but most programs in the area are starting up after mid-June and we forecast the demand to be lessened after programs start up.
We would like to thank the organizations that hosted courses in the past and as well as those who offered their facilities in 2020 (most of which could not be used due to COVID-19). And in mid-April 2021, a rapid response has been received from five additional clubs in western Long Island Sound that have now been introduced to US Sailing as possible in-person sites. 
Recent Level 1 Hosts in Western Long Island Sound Region
| | |
| --- | --- |
| American Yacht Club | Norwalk Yacht Club |
| Beach Point Yacht Club | Pequot Yacht Club |
| Cedar Point Yacht Club | Port Jefferson Yacht Club |
| Centerport Yacht Club | Rocking the Boat |
| Indian Harbor Yacht Club | Seawanhaka Corinthian Yacht Club |
| Larchmont Yacht Club | Sound Waters |
| Longshore Sailing School | SUNY Maritime College |
| Manhasset Bay Yacht Club | The Stony Brook School |
| New York Athletic Club | The Waterfront Center |
As always, thank you for your ongoing support of Junior Sailing on the Long Island Sound.
Thank You
Alex Helfand: US Sailing Regional Training Coordinator and JSA Co-Chair
Bob Whittredge: JSA Executive Director