Two Long Island Junior Sailing Programs Held Regattas To Raise Money For Make-A-Wish Foundation 
Saturday July 23, Port Washington Yacht Club ran their 21st annual charity fundraising regatta for the Make-A-Wish Foundation. At this event, there were 105 boats and 117 competitors registered from eight different junior sailing programs, including Manhasset Bay Yacht Club, Hempstead Harbour Club, Cold Spring Harbor Beach Club, Seawanhaka Corinthian Yacht Club, and Douglaston Yacht Squadron. 
The classes included  Optimist White fleet (young sailors who are less than 10 years old), Blue fleet ( 11 or 12 years old), and Red fleet (13-15 years old), O'pen Skiff, RS Feva, Laser Radial, and Club 420  that raced across two different courses. 
"It was hot and wind stayed low throughout the morning, but after a half hour delay to the harbor start (from 1:30-2:00 pm), the wind picked up enough to run two races," described Megan Day, Port Washington Yacht Club Sailing Director. 
Fundraising sailing events, like Make-A-Wish regatta, bring people together to give back to a cause. All share a common interest in and passion for sailing. 
"Being a charity regatta, PWYC keeps the emphasis on sportsmanship, and fun," Day said.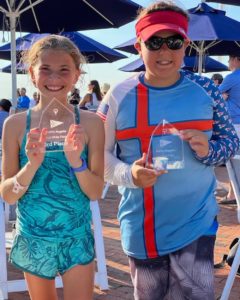 PWYC raised money across the event offering prizes to those who donated the most amount of money on their pledge sheets and awards for the winners of the races. By the end of the charity regatta, over $65,000 was raised!  
Since this was Port Washington Yacht Club's 21st Make-A-Wish regatta, Sal Russo, Vice Chair of the Yacht Club Junior Sailing Program, is optimistic about the future of  this annual event. "While it is very rewarding to pass on a love of sailing and being on the water to our children, the legacy of charity that we have the opportunity to pass down with this regatta is a very special opportunity", he said. "The Port Washington Yacht Club Make-A Wish Regatta has become an institution and we expect this to be an enduring legacy for years to come."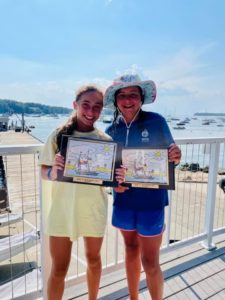 On Friday July 22, Northport Yacht Club also hosted their own charity regatta for Make-A-Wish Foundation. "It was so hot, very light wind, but the kids did great! They completed 2 races, the third called due to lack of wind," said Amy Montalto, Jr. Sailing Co-chair of Northport Yacht Club. 
During the regatta, first time RS Feva sailors Carly Smith and Paige Reiser took first place in their division, and first time Laser sailor RJ Callanese took first place in his division.
"Thanks to sponsors and the children we raised over $30,000! That will grant 6-7 kids a wish!" Montalto said. 
Interested in reading more? The Make-A-Wish Foundation wrote an article about Port Washington Yacht Club's Regatta that may be viewed here, https://wish.org/newyork/making-waves-and-wishes