Dave Perry Match Race Clinegatta As Alternative to JSA Champs 2022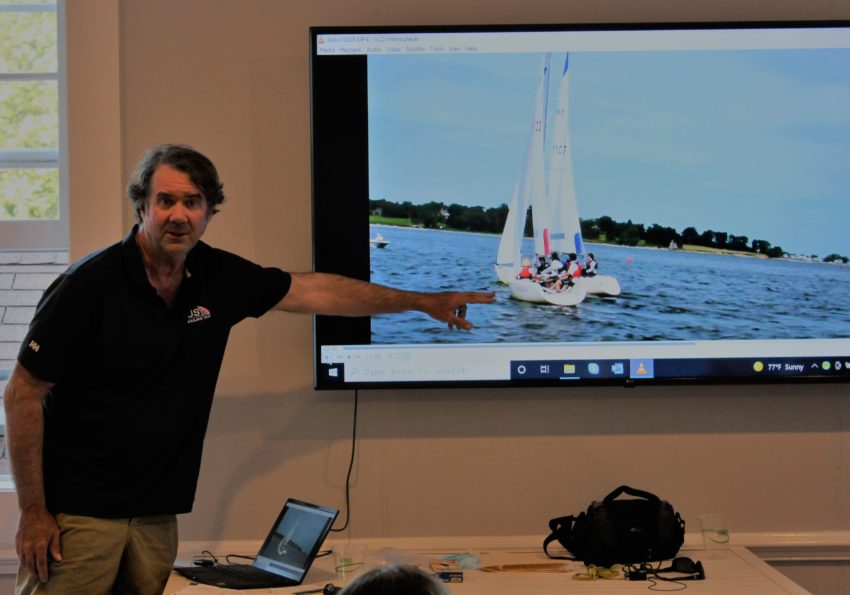 [Dave Perry conducting his junior match race clinic in August 2021]
<< This clinegatta has been cancelled for 2022. See you next summer! >>
This week it was announced that the JSA Championships for the ILCA(Laser) and Club 420 classes have been rescheduled for Monday, August 15th and Tuesday, August 16th at Noroton Yacht Club. This means Champs now conflicts with the JSA Jr. Match race Clinegatta, scheduled for Monday, August 15th through Wednesday, August 17th at Pequot Yacht Club.
Many of us, seeing this conflict, may think the answer is obvious: we will be sending our sailors to Champs.
The purpose of this note is to suggest a different way of thinking: your Club may consider sending sailors to both events.
• Champs remains a great season-ending event, culminating a season-long run-up and a final opportunity compete to see who is "the best." But not everyone will stand on the podium, or finish in the top ten.
• Mid-August might just the time for some of our junior sailors to take a different "tack" by giving match racing a try to further hone their skills.
Here is the opinion of one accomplished sailor, "I started match racing in college and was instantly hooked on the game. I love how it requires you to come up with a game plan to knock out the opponent based on the wind, current, position, course strategy and racing rules of sailing. The team dynamic is crucial to success, as everyone has to think on their toes and act in the moment to adapt to constant changes. There is a physical and mental component to this type of sailing that is unlike any other sailing I have done." (Stephanie Roble: Tokyo 2020 Olympic Team Skipper in 49erFX and ranked 5th in World Sailing's Women's World Rankings – 2017)
Here are Four Reasons Why Your Club Might Consider Sending Sailors to the Match Race Clinic
· It will a rare opportunity to get three days of quality coaching direct from Dave Perry.
· The experience could raise their game and ignite greater enthusiasm for competing beyond dinghy racing.
· Your club does not need to send a coach (Pequot will supply them).
· Your club does not need to send boats (Pequot will supply its own Ideal 18s).
Now is the time to give this your sincere consideration. If insufficient sailors sign up by end of Monday, August 8th, the Clinegatta will need to be canceled until 2023.
We hope you will consider sending some of your sailors to the Clinegatta at Pequot YC on August 15 to 17, 2022.