Three Days of Larchmont Junior Raceweek are a Success!
This past week from the 15th to the 17th Larchmont Yacht Club held the famous, Larchmont Junior Raceweek. This three day event includes over 100 sailors from many different clubs and has all kinds of boats involved including, 420s, Fevas, Laser Radials, and Laser Standard. The first couple days of the regatta went smoothly with several races while the third began to get a little rocky because of the weather. 
Sailors from Larchmont Yacht Club claimed they "…were doing alright until the lightning started to come in," while others said, "our boat capsized on a towline and we had to right it!" As a storm began to roll in during the early afternoon, all sailors were told to head in and get off the water as soon as possible. This definitely caused some commotion, but it was exciting nonetheless. Sailors gathered around Walter's Famous Hot Dogs, and waited for the awards ceremony. 
Sailors were awarded for their placement in the results and were given to in the four categories of boats. Larchmont also had the race committee and junior race committee give out perpetual awards to some of the sailors that attended. In the 420 class the top three were Cole and Luke Woodworth from Pequot Yacht Club. In second was Hannah Nightingale and Charlotte Elizabeth Costikyan from Noroton Yacht Club and in third we had Margaux Cowles and Leighton Farrel from Larchmont Yacht Club.
In the Feva category Larchmont had Braden Joyce and Benjamin Sweetland from CPYC in first and Breck Lyon and Tomas Zaleski came in second from Stamford Yacht Club. Coming in third was Oliver Fenner and Andrew Sugerman from CPYC. 
In the Laser class for first of the Laser Radials was Andrew Powers from American Yacht Club, Maddy Saffer from American Yacht Club in second, and Max Laferriere from Pequot Yacht Club in third! In the Laser Standard Carter Boykin-Holland came in first from Larchmont Yacht Club. In second place was Sterling Thompson from Northport Yacht Club and in third was Tucker Ballou from Pequot Yacht Club!
This regatta also features several perpetual awards at the awards ceremony given out by the Race Committee. The Commodores trophy, which goes to the class winner, was received by Cole Woodworth at PYC. The Windjammer, or the Sportsmanship award was given to Dixon Roe who comes from Larchmont Yachtclub. The William Luckett award for best 420 Skipper & Crew went to Cole and Luke Woodworth from PYC. Luke Woodworth also took home the Crew Trophy Award. 
The next slew of awards starts with the Al Bamberger award which honors the best Feva or Pixel Skipper, and this went to Braydon Joyce & Benjamin Sweetland from CPYC. Next the O'Donnell Trophy which awards the best female seamanship and sportsmanship, and this went to Hannah Nightingale from Noroton Yacht Club. Lastly the George Hill award which is for best Laser performance, went to Andrew Powers from American Yacht Club.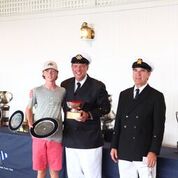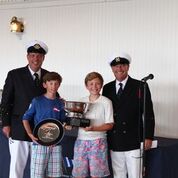 Don't forget to check out the rest of the awards and keep up on clubspot!
The above photos are credited to Howard McMichael.