JSA Law Trophy Regatta 2019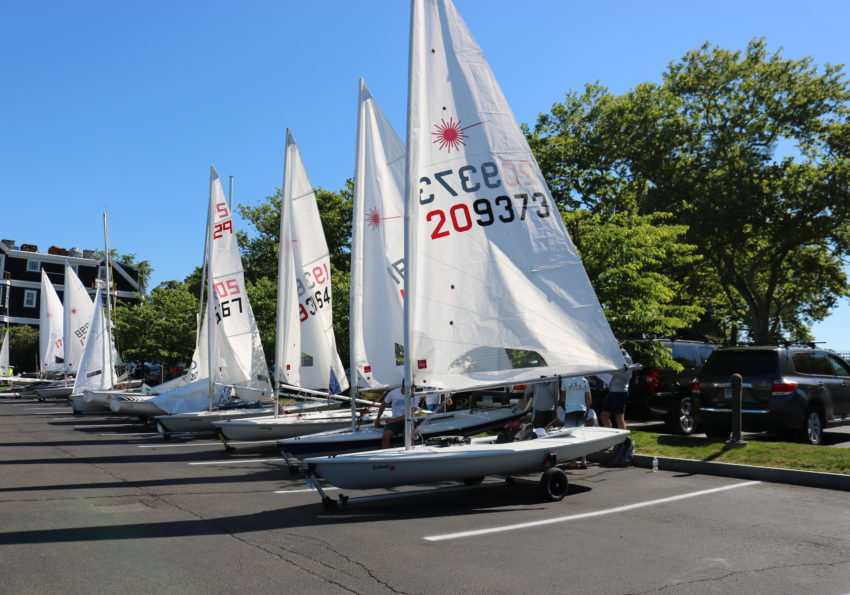 July 1st — The Law Trophy hosted by Indian Harbor Yacht Club is the first JSA regatta of the season. The regatta is held over two days and hosts Club 420s, Lasers, Radials & Fevas. On day one the boat park was filled with junior sailors from a variety of clubs and sailing organizations within in JSA of LIS. They were all milling around, rigging their boats, and getting a feel for sailing again, considering most of these young participants haven't sailed since the previous summer. The mood of the boat park was excited! Most of the participants,when asked about their goals for the two-day event, were there to have fun and get back into the swing of things. Of the clubs present, sailors from American Yacht Club, Riverside Yacht Club, Cedar Point Yacht Club, and Pequot Yacht Club spoke to us about their excitement for the day and what they hoped to achieve when racing in this regatta.
The sailors from Riverside Yacht Club collectively agreed on their goals for the Law Trophy, "We're looking to have a good day and get back into things. We haven't sailed since last summer, so today is all about getting a feel for the boat again".
From American Yacht Club we spoke to a young woman named Maddie who was there to have a good day.
The sailors from Pequot Yacht Club came to "win, but also have fun".
The sailors we spoke to from Cedar Point Yacht Club had two goals. One young man told us that he wanted to place, while his friend confidently told us that he just wanted to finish the race.
Other participants came from ,, Larchmont Yacht Club, Noroton Yacht Club, Indian Harbor Yacht Club, Stamford Yacht Club and Old Greenwich Yacht Club.
Once everyone had checked in, settled themselves, and grabbed some food provided by Indian Harbor Yacht Club, all of the sailors and coaches gathered in the clubhouse for the competitors and coaches meetings. The Indian Harbor YC regatta chairman Dr. Jack Kruse, Principal Race Officer David Seabrook, and Sailing Director Elizabeth Shaw O'Toole, went over the rules, regulations, and emergency protocol for the regatta to ensure that everything would run smoothly. Provided to the sailors and coaches were Sailing Instructions and copies of the emergency plans. Once all questions were answered and everyone was on the same page, the junior sailors and coaches made their way out of the harbor promptly at 10:30 for a great day of racing.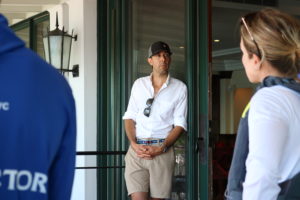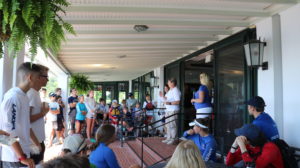 Because this is the first regatta of the JSA junior sailing season, participants come out to have a good time, sail with friends, have a great day, and remember why they love the sport.
The Law Trophy continues into day two on July 2nd when the winners will be announced.