Briggs Cunningham Inducted into National Sailing Hall of Fame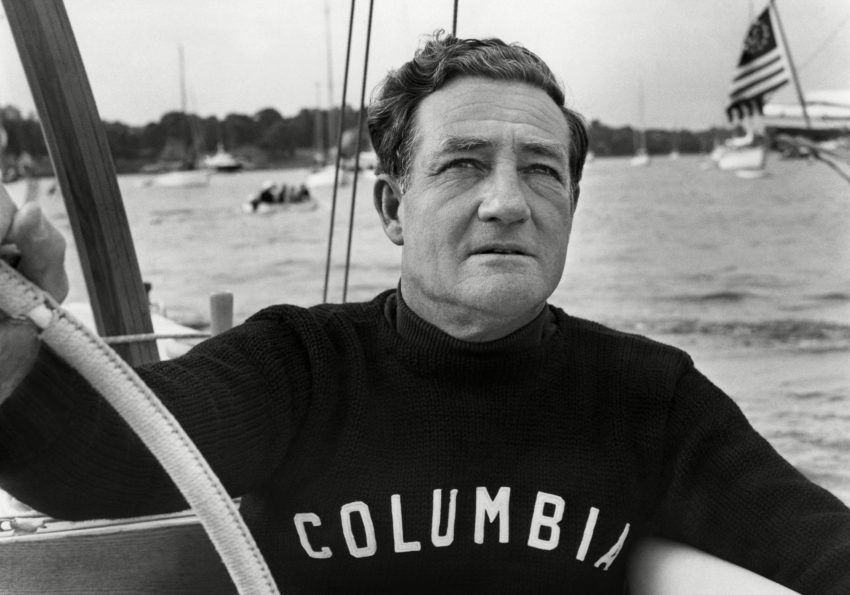 The Junior Sailing Association of Long Island Sound is pleased to acknowledge Briggs Swift Cunningham's induction into The National Sailing Hall of Fame as a member of the Class of 2020, and as recipient of The Hall of Fame's Lifetime Achievement Award. The induction ceremony will take place virtually on September 12.
Briggs was the consummate sportsman: a golfer, tennis player, boxer, bobsledder, and car racing innovator. He has been described as, "A quiet, shy man who brings to sport an organizational ability and drive which would make him a success in any field." But, more than equal to these interests was his great love of sailing and a life-long commitment to supporting our great sport.   
Briggs' sailing career began in the Star class when he was 17 years old at Pequot Yacht Club. After sailing at Yale University, his interest turned to the Six Meter Class, where at the helm of several boats christened Lucie, for his wife, Briggs prevailed in many local, national and international competitions. In 1931 he crewed on the yawl Dorade when she won the Fastnet Race. That win, together with victory in the 1931 Transatlantic Race, resulted in a ticker tape parade down Broadway upon the crew's return to America. Briggs also became very active in the Atlantic Class, winning the class national championship five times between 1952 and 1961. He also financed the creation of a mold that resulted in the first fiberglass Atlantic in 1953, which enabled the 1929 wooden boat design to be one of the early converts to fiberglass.
All of this was a mere prequel to 1958, when America's Cup racing was returning following a World War II hiatus. Briggs, originally one of the organizers of a syndicate to build and campaign the 12 Meter yacht Columbia, was asked to become skipper after the legendary Cornelius Shields of Larchmont Yacht Club suffered a heart attack. The ensuing campaign to be selected to defend the America's Cup was one of the closest in America's Cup history.
Too often America's Cup races have been anything but close. But in the 1958 Final Trials to select the boat to represent the United States the average winning margin was only 34 seconds. Columbia prevailed by beating Vim, skippered by Emil "Bus" Mosbacher of the Beach Point Yacht Club, in the last race of the Trials. Columbia went on to win against Great Britain's Sceptre in four races.  
"Briggs was like a fine violinist with boats," said Victor Romagna of the Manhasset Bay Yacht Club, who sailed with Cunningham in the competition. "He would need someone to do the tuning, as one might with a Stradivarius, but afterwards, we would hand the boat back to Briggs. Then he would play the instrument absolutely perfectly."
Throughout Briggs' life there was an unending support of junior sailors. The juniors at Pequot Yacht Club, in particular, benefited from Briggs' attention and resources. He would often make available his 50 ft Chaperone that had served as the tender for the engineless 12 Meter yachts during the America's Cup events. While Chaperone was serving as support boat for Pequot juniors travelling to an away regatta, one of his daughters developed a "rig problem." She brought her Blue Jay sloop alongside the tender, and while discussing repair options, the possibility of a new mast came up as an ideal solution. To which the tender's captain said, "I've got one of those!" And indeed produced a spare Blue Jay mast, which was stepped in replacement of the original faulty spar, allowing the boat to continue racing.
Major and endless contributions to sailing were a hallmark of Briggs' life. Always seeking opportunities to improve on design and function, he developed a clever device to adjust the tension on the luff of a sail. In a moment of inspiration, after his sail maker on City Island NY was unable to re-cut a stretched mainsail in time for a weekend 6 Meter yacht race, Briggs suggested that a grommet hole be quickly sewn about six inches up in the luff of the sail, and he would then thread a line through the hole to pull down on the sail. As a result, this handy adjustment to sail trim has long been called the Cunningham!
Finally, there was Briggs' love and support of Mystic Seaport, as evidenced by the schooner Brilliant. Acquired by Briggs in 1945 and donated to Mystic Seaport in 1953, this amazing yacht has sailed the equivalent of five times around the earth, with more than 11,000 students setting her sails and steering her course. 
The NSHOF article about Briggs is available here.