2017 JSA of LIS Racing Clinic at Stamford Yacht Club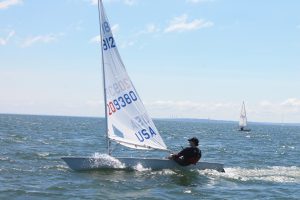 On June 24-25 we had the opportunity to welcome 22 sailors at Stamford Yacht Club as part of the 2017 JSA of LIS Racing Clinic. This clinic is held annually with the support of the Oyster Bay Sailing Foundation. One of the goals is to get the sailors attending ready for summer racing. It is open to sailors in the Laser, Radial, and Club 420 classes willing to improve their sailing technique. The clinic took place over two days, with a combination of chalk talks, water drills, and individual review.
This year the coaches included Stan Schreyer, head coach of the Boston University sailing team, Morgan Collins, assistant coach of the SUNY Maritime College varsity team, and Will Logue, a top skipper on the Georgetown University sailing team.
Crews started setting their boats up on Saturday morning, during a passing rainstorm. This activity included raising masts, transferring boats from road trailers to dollies and putting the sails up. As the rain became less intense and the sky started clearing, the sailors and coaches headed inside for a quick chalk talk and morning briefing. They discussed racing and practice preparation and its effect on racing performance as well as racing rules. As the chalk talk was nearing its end, the sun came out and the sailors decided to launch. After the Lasers and Club 420s got on the water, they slowly headed out of the harbor in 2-5 knots of wind.
Once out of the harbor the wind picked up, with puffs reaching 25 knots. Some of the newer crews had to adapt to sailing their boats in windier conditions. The goal switched from making fine adjustments, in order to maximize efficiency, to heavy air boat handling and focusing on speed. The Lasers came back inside the harbor where the conditions were lighter, and the Club 420s soon followed. All headed back to the yacht club to debrief the morning activities. After talking about heavy air technique on land, the boats headed back out for a short session.
On Sunday the conditions were lighter, and the emphasis was on boat handling, which is crucial in heavy air as well as light air. While in windier conditions, the coaches emphasized on keeping the boat flat upwind and moving properly through transitions, the lighter breeze demanded precise weight placement, smooth movements, and proper rolls during tacks and gybes.
All in all, the clinic went very well, thanks to the participants and all the coaches. The sailors had the chance to tune their boats up for the upcoming season while practicing their boat handling technique in light to heavy air (2-25 knots). We look forward to seeing you all next year!
Click here for photos of the event, and here for the event video.