Sail the RS21 Keelboat at 2021 Chubb US Junior Championship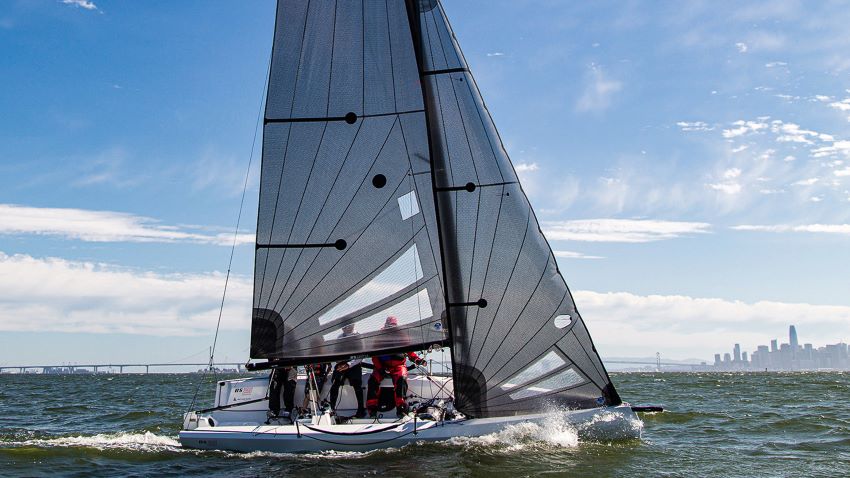 Eastern Yacht Club, Marblehead, Mass. is hosting the 2021 Chubb US Junior Championship from August 10th to August 14th. Three fleets will compete in boats provided by the organizers: quadruple handed in RS 21 keelboats (Sears trophy), double-handed in Club 420s (Bemis trophy) and single-handed in ILCA 6 / Radials (Smythe trophy). The Chubb is US Sailing's national championship for junior sailors, aged 13-18.
What makes the RS21 keelboat special for junior sailors?
The RS21 is a great boat to use for junior multi-handed sailing. According to its builder, RS Sailing, the RS21 can plane at 11-12 knots, is responsive to roll-tacking and -gybing, rig- and sail-tuning, and crew weight. It's a lot of fun! The Chubb event chair Hannah Lynn says, "The boat fits Commodore Sear's original goal of promoting youth keelboat sailing, while moving the sport toward both cost-effectiveness and high performance." Lynn also noted, "This combination has been hard to find in the sailing world in the past, especially for younger sailors."
What's the history of the Chubb regatta?
This year marks the 100th anniversary of the Sears trophy. The historic nature of the event is emphasized in its location at Eastern YC, the same venue that hosted the inaugural Sears trophy regatta in 1921 for competition among juniors at Massachusetts yacht clubs. Eligibility was broadened in the following year to include yacht clubs such as Larchmont and Seawanhaka Corinthian on Long Island Sound. Today, sailors race in boats provided by US Sailing and the event host to ensure the quality of the equipment and a level playing field. Coaching is provided for all competitors by US Sailing's Youth National Coach and team of Level 3 Certified Fleet Coaches.
Qualification for the Chubb by western Long Island Sound sailors will be at two regattas on the Great South Bay:
* Single- and Double-Handed at Bellport Bay YC on July 7–8, with open entry available to any US Sailing Area B juniors who can bring their own Club 420 or ILCA 6 / Radial boat and register themselves by end of day July 6.
* Quadruple-handed at Sayville YC on July 12-13, will be sailed in J/22 keelboats provided by the host and is limited to six boats in total. July 7 at 6 pm is the application deadline for quadruple-handed teams from the western Long Island Sound region.
Apply for the quadruple-handed event: Junior sailors may apply for selection as a four person team who will represent the western Long Island Sound region (the JSA/YRA of LIS region). J/22s provided by the host will be raced by one team each from the six Area B regions (Hudson River, Eastern CT, Eastern LI, Great South Bay, Western LIS, and the Virgin Islands). After July 10, any remaining boats will be released first to a second team designated by the Great South Bay YRA, and then to Area B residents of any RSA on a first come, first serve basis for the Area B event at Sayville YC. The winning team at Sayville YC will represent Area B at the 100th anniversary of the Sears Trophy competition sailed in RS21 keelboats at Eastern YC, Marblehead, Mass.
Notes:
– The top image above shows an RS21 sailing in San Francisco Bay.
– Junior programs located outside of western LIS may contact their local regional sailing association, PGJSA or ECSA for example, about selection for the Area B Quadruple-Handed Junior Champs at Sayville YC.