Laser 4.7 is a Good Transition Boat from the Optimist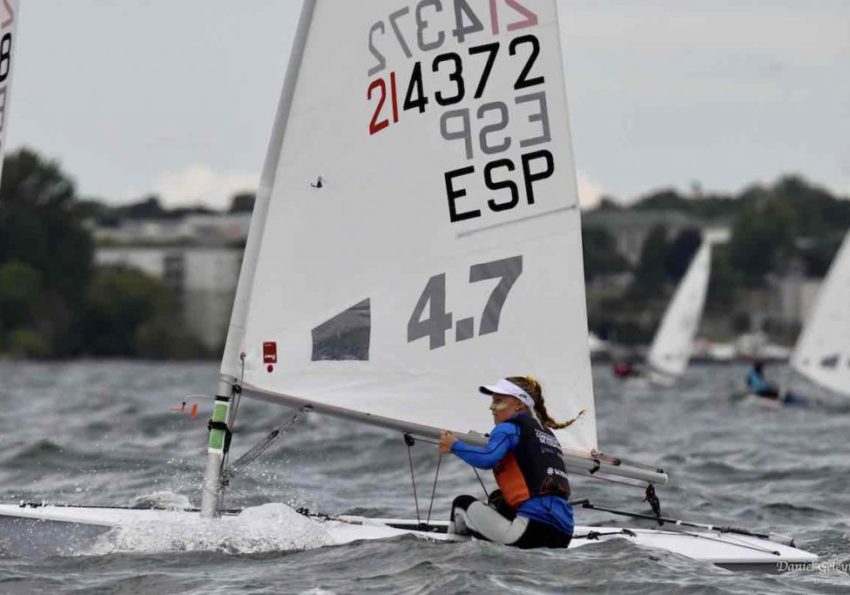 What is the Laser 4.7 rig? (aka ILCA 4)?
It is a Laser sailboat (aka ILCA dinghy) with the smallest of the three sail rigs. The Laser 4.7 uses a smaller sail with a different lower mast section. A Laser Standard (aka ILCA 7) or Radial (aka ILCA 6) rig can be reconfigured into a Laser 4.7 by changing the sail and the lower mast section for under $300, using non-ILCA-class 4.7 practice sail and replica lower mast section, which are accepted for use at JSA of LIS sanctioned regattas.
To encourage wider use of the 4.7 rig by smaller sailors of any age, the JSA of LIS has modified its rules to permit 4.7 rig sailors who have a lower age (12 years) and lower bodyweight (95 lbs.). Also, eligible sailors will be able to compete in a Laser 4.7 class at the JSA Laser Championships in August 2021.
Reasons to consider the Laser 4.7 as a transition boat from the Optimist:
The sail area of a Laser 4.7 is about 18% smaller than a Laser Radial rig, which makes the 4.7 rig suitable to the physique of most youth sailors. Ideal weight for the 4.7 rig is between 110 lbs.-145 lbs. but 95 lbs. is OK for most conditions on Long Island Sound. The 4.7 rig is age appropriate, with some sailors starting at 12 years old.
The 4.7 rig promotes the continued development of a sailor's technique: Transitioning sailors become overpowered sooner in larger rigs, like the Radial, and are forced to depower by easing the mainsail. A rig-appropriate configuration allows the sailor a wider range of sail trim options and puts a premium on finesse (e.g., when to point, when to foot) and an understanding of sail shape. Reduced risk of injury to lower back and knees from extreme hiking when overpowered. The 4.7 rig makes it easy to transition to a Laser Radial or Standard rig, thereby providing continued years of use.
Having single handed boats promotes larger fleets. Having 8 Lasers vs. 4 double handed boats better simulates racing conditions, with more sailors to compete with and learn by watching and talking. The Laser is easy to cartop. There is a very good level of female participation. Plenty of used boats are for sale at reasonable prices and they have a good resale value.
Who should consider the Laser 4.7?
Do you want to continue to sail a single-handed boat after the Optimist? Are you too heavy for the Opti and not competitive? Are you bored with the Opti and want to try something new? Are you campaigning a double-handed boat but want the added practice of racing in a bigger single-handed fleet? Do you want a good boat for Adventure Sailing?
A few points to consider about the Laser 4.7:
It has achieved considerable international success. The European Laser 4.7 Championship usually attracts 400 participants. This is higher than any other youth sailing class, including the Optimist, and the 420. Interest has been growing in North America, especially in Florida and Canada. The 2019 Laser 4.7 Youth World Championships, from which these pictures were taken, had 180 boats sailing in Kingston, ON, Canada.