Junior Sailing Memories From 'Long Ago' – New York Yacht Club Junior Day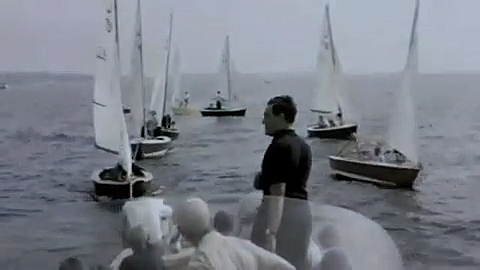 Briggs Cunningham towing a string of Blue Jays from Pequot YC in 1956
The Summer of 2020 has been both a challenge and a different experience for our junior sailors. COVID-19 has brought with it the need for "social distancing", masks, buffs, curtailment of some very large regatta experiences and a lot more.
On the racing front, great events like "Race Weeks" and Champs have been replaced by more localized competitions. "Neighborhood Regattas" are the norm, where a limited number of of clubs come together for a day of racing. Sensitivity to the need for social distancing means access to race courses is limited to towing on the water, which for some seems a throwback to medieval times.
Years ago, towing was not the exception, but the rule. For events both nearby or distant, clubs would regularly string their Blue Jays and Lightnings (the junior boats of that era) on long tows for long distances.
It's one thing to imagine boats being towed empty to Larchmont Race Week for a multi-day regatta (for years, Larchmont Race Week was EIGHT days?). It's another to imagine an event where our sailors would actually get into their boats at sunrise, be towed for hours to a distant race course, race only one race and then be towed back home, arriving as (or after) the sunset.
Such is the story of New York Yacht Club Junior Day.
Beginning in 1945, the Junior Yacht Racing Association of Long Island Sound (predecessor to the JSA of LIS) collaborated with the New York Yacht Club on a one day race event for junior sailors.
The format was simple. On the Tuesday before Larchmont Race Week, junior sailors would gather in the vicinity of Bell '32A' off Greenwich CT for a day of racing. When we say "a day of racing", we mean ONE race. Time Limit 3 hours.
Since New York Yacht Club had no waterfront presence in our area, the only access to the race course was via tow. Clubs from as far away as Black Rock would pile sailors into their boats for a tow that could take up to five hours before reaching the race course midday.
As one tries to wrap one's mind around such a phenomenon, it would be easy to conclude that this could not be normal. No one in their right mind could possibly want to be a part of this.
In 1966, 700 sailors showed up in 239 boats for New York Yacht Club Junior Day.
For normal athletic events, it is the competition that distinguished the event. But for New York Yacht Club Junior Day, racing was almost secondary to the ordeal of traveling to and from the race venue.
It was all about…"The Tow."
Pequot Yacht Club personified this experience. The night before the event, the sailors would set up their boat on one long towline, with six Lightnings in front and thirteen Blue Jays to the rear. All of gear required for the next day's "voyage" would be stowed. The next morning, as the sun was beginning to rise, the sailors would arrive, armed not only with the popular "energy food" of the day (sandwiches, sodas and cookies), but also the requisite amount of candy, comic books and other "emotional support" items required to survive the voyage ahead.
As the time approached for the tow to leave, many of the crews would, in lieu of rigging sails, instead stow sails away and place boat covers over their booms, essentially sealing themselves inside a maritime tent. Duly protected, the tow would head off, without the benefit of GPS or other technology, for Bell '32A' off Greenwich.
How did they navigate, you ask? It's called "Dead Reckoning" (look it up).
Wrapped within our canvas cocoons, out would come the candy, the comics and any other materials necessary to pass the time. It may have felt a little tight. But…Hey… this was an adventure!
Late morning, after 4+ hours, we would feel the engines slow, and we would unzip the cover and find, to our amazement that we had arrived. The boat cover would be stowed. The sails would be set.
And 'a racing' we would go!
Three hours later, racing completed, sails would be stowed. Boat covers put back on and zipped up. More candy. More comics. The long tow back home.
And as the sun set, we would return back to our home club.
We had survived an adventure.
Maybe all of this seems too bizarre to be true. So we reached out to those who lived through that era to capture their own memories.
A sample of the responses:
"My first time sailing in that regatta was in midget Blue Jays. Right after the start a big squall came. Boats capsized all over. We dropped sails and tried to anchor, but the anchor line with spin sheets tied to it still did not reach the bottom. We just drifted until it was over and towed back to Sea Cliff. But great memories of sailing in JYRA! The best summers a kid could have.'
(Re: 1957 Squall Hits NYYC Junior day) "I think he is right re the 57 date. I was in a Mercury out of Belle Haven. We referred to it as Black Tuesday for years. We got hit so fast we couldn't get the halyards out of the old jam cleats. Boat was laying flat on its side with the sails up w/ us hiding from the wind behind the hull. Got picked up by a big powerboat from Long Island. None of the parents knew where we were. Don't even remember how I got back to the club. The punch line is that the boat sunk w/ all the sails up and was never found!!! Crazy day."
"I was racing Junior Blue Jays, in the first division to start of all the Blue Jays, and up the first beat I was leading. I saw this big black rain cloud engulf the straggler Lasers ahead of me but I couldn't tell how much wind it was packing. When it hit us I dumped the main sheet but the little dude crewing couldn't get the jib sheet out of the cleat and over we went. I lost all manner of gear – spinnaker pole, sail bags etc. – but my instructor Jamie McCreary at Horseshoe Harbor YC went around picking up other stray gear, so I wound up getting upgrades on some items. Got rescued after 20-30 minutes by the Riverside YC instructor's boat that had a motorized pump. Finally hooked up with McCreary for the tow back to Larchmont, which really was a cold dreary ordeal. Worst of all, I'd lost half a roast beef wedge I was saving for the ride back."
"Circa 1967, twenty+ Blue Jays and Lightnings left Manhasset Bay YC early one morning en route to 32A for the NYYC Jr Regatta and, following multiple hours of canvassing LIS in the fog and seeing nothing but fog, returned to MBYC with the sails still furled … still remembered as the infamous MBYC Tow to Nowhere!"
"As a young kid, I loved tows. My favorite was leaving Larchmont and heading up to Greenwich for the NYYC Regatta. There would usually be more than 20 boats on the tow. We'd leave pretty early, maybe around 8 o'clock. The Sound would be flat calm. Occasionally we'd meet a tow coming from Sea Cliff or Manhasset Bay. Sometimes there would be a thick gray mist hiding the shore, making the hulls look really bright, and increasing the adventure. But the coolest part was that the perfect geometry of the wakes would precisely join with the wakes before them, making a large wave diagonally stretching into the mist from each boat. All together an arrow moving across the water, marking our progress and direction."
"Of course my most exciting tow was, well, a little bit darker. I was working for the NY Athletic Club on Travers Island. And they wanted me to take 5 or 6 Blue Jays up to the NYYC Junior Regatta. But, they didn't completely trust me with their supercharged, hot rod launch, with a large police Interceptor V-8, that would go over 30 MPH, faster than a Corvette in a drive-in parking lot. So they sent the (appropriately named, it turned out.) Shore Captain, who ran the dock facility for the members' large power yachts. I don't remember if he was wearing epaulets, but he should have been. So, we're towing the Blue Jays up to Greenwich, and he starts driving right through Hen and Chickens. I'm just a kid really, and I'm thinking, "Wow, he knows a path through Hen and Chickens! I'm gonna try to triangulate our course from the shore, so I can do it too." Then, the inevitable "CRUNCH" and we both went flying forward as the boat stood still. "What the h… was that?" he screamed. "Hen and Chickens," I said. He asked why I didn't tell him. I didn't say much. But, I thinking, can't you see the navigation buoys all around it? And, who on Western Long Island Sound doesn't know about Hen and Chickens? Well, it could have been worse. Just had to wait for the tide to come in a bit. While the boat was leaking, it wasn't sinking. We got the boats to the regatta. Don't remember much else. But assumed I had a little laugh that night."
And you think you've got it tough?  Enjoy your tow! Enjoy your summer!
Credit: Thanks to the JYRALIS Reunion Group for their memories, and to Tim Clark for collecting them in this article.